The financial ramifications of a divorce can be devastating. But, with proper planning and expert help from professionals specializing in financially equitable divorce settlements, you can increase your chances of arriving at a settlement that fully addresses your long-term financial needs -- and your spouses too. What's missing in most divorce processes is financial expertise. A Certified Divorce Financial Analyst® (CDFA®) professional can forecast the long-term effects of the settlement. By using a CDFA professional, both partners have a clearer view of their financial futures. Only then can they approach a settlement that fully addresses the financial needs and capabilities of each. To learn more about how a CDFA professional can help you plot your financial future with Divorce Settlement Analyst™ software, read the case example that follows.
Who do CDFAs® help?
CDFA professional's help clients determine the short-term and long-term financial impact of any proposed divorce settlement. They also provide valuable information on financial issues that are related to the divorce, such as tax consequences, dividing pension plans, continued health care coverage, stock option elections and much more. CDFA professional's also help attorneys by helping the client make financial sense of proposals. CDFA professional's give lawyers the tools they need to help prove their case.
Should a divorcing person hire a CDFA® instead of a divorce lawyer?
Definitely not! The IDFA™ highly recommends that any person getting a divorce seek legal counsel. The CDFA professional's role is to assist the lawyer – not to replace the lawyer.
Do CDFAs® help only men or only women?
CDFAs® are trained to advocate for men and women.The CDFA® simply interprets the numbers and helps the lawyer build a strong case that's in the client's best interest.
Can CDFA professional's act as a neutral party to help a couple reach a settlement?
Many CDFA professional's are also trained mediators or collaborative professionals who can take a role in facilitative mediation or collaborative divorce. However, most CDFA professional's are not also lawyers, and they cannot give legal advice. The IDFA™ always recommends that any person going through a divorce receive independent legal advice.
How a CDFA helped one couple
John and Jane are 40 years old and have two children. They own a home worth $165,000 with net equity of $77,500. Their IRAs and 401(k) retirement plan total $165,500 in value. John earns $90,000 a year and has take-home pay of $68,760 a year. Jane has never worked outside the home and has no job skills, but she hopes to get a part time  job for $8 an hour with take-home pay of $8,900 a year. The following settlement has been suggested. After the divorce, Jane and the children will live in the house, which will be deeded to her. She will also receive $44,000 of the retirement moneys and John $121,500, thus dividing the assets equally. John will pay Jane alimony of $600 per month for 5 years and child support of $225 per month per child. He will also pay college costs which start in 4 years. John's expenses include his normal living expenses, child support, alimony and college costs. Jane's expenses include support of the children and are reduced when each child leaves home. This appears to be a reasonably fair settlement. However, an analysis creates the financial future illustrated in the following graph. Jane's assets will be completely depleted within seven years while John's investments will grow dramatically.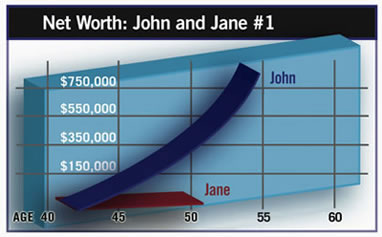 To improve Jane's financial future, the settlement could provide her with increased alimony of $1,500 per month for 10 years. This would actually cost John $1,005 per month in after-tax dollars. The correct child support according to the Child Support Guidelines is $1,125 per month for two children for a couple with their income. Jane also could be awarded an additional $24,300 from the retirement plans. She also may need to cut her expenses by 10%. These changes in the original settlement will produce the results illustrated in graph #2. John will still have a surplus which he can add to his investments. If John stays within his budget and invests all of his extra income, his investments have the capacity to grow to $2.5 million by the time he is age 60.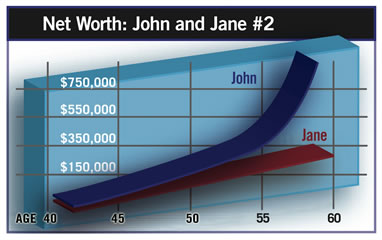 This sample case illustrates the value of financial planning as a means of reaching more equitable divorce settlements. If the court's intent is to treat both parties in a divorce as equitably as possible, it is essential to analyze the marriage as if it were a financial contract, with tangible investment into it by both parties.